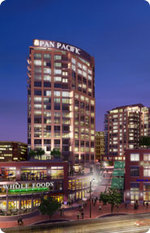 2200 Westlake is having their Grand community opening Monday, Dec 4th for the public from 8.00am to 6.00pm (Westlake Ave & Denny Way).
Visitors will get to sample fresh foods in their Whole Foods Market, take a tour of their luxury hotel rooms, and enjoy special promotion offered by their merchants.
This is an event not to be missed if you are curious about Paul Allen's South Lake Union residential projects.
Technorati Tags: 2200 westlake, Pan Pacific hotel/condo, South Lake Union condos, Seattle condos, Paul Allen, Discovery center