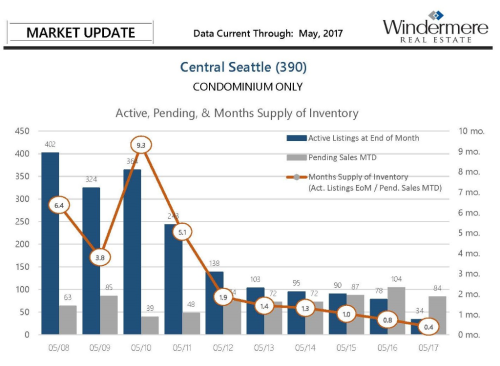 This week as I was preparing my final pricing recommendations and offer review strategy for a condo in the pike-pine area of Capitol Hill, I continue to be amazed at the velocity of sales as well as the competitive nature of the Seattle condo market, even for higher-end condominiums in our city.
The condo I will be listing right after the 4th of July holiday for my clients is a nice modern 2 bedroom corner unit and in reviewing recent sales up on the Hill (area 390), it's amazing to me that we are now starting to see pricing falling at an average of $632 dollars per square foot this year for the month of May.
For this specific condo listing, my market value estimation for them last year in 2016 was approximately $580,000-$600,000, when the average pricing was falling at around $540/sqft for the same period last year. Well for this year, this market analysis I am preparing has me realistically thinking they may fetch nearly $675,000 to possibly even $700,000 if we are able to get multiple buyers competing for the condo.  That's about a 14% increase for this unit specifically.  Not bad.
Sales data from our Windermere Market Update report (linked below), is showing a 15% year-to-date appreciation in sales of condominiums in Capitol Hill (and the rest of area 390) and this is just astounding to me because last year at the same time we were surprised that we were seeing  $540 dollars per square foot for the average sale pricing.
With the recent announcement that Amazon is purchasing Whole Foods for $13.7 billion, I personally don't see any immediate slowing in our condo market as it appears our local online retailer isn't planning to slow down growth and likely this means they probably won't be light on the hiring either as they do whatever it is they plan to do with this new acquisition. Strong local economy and job growth often are key factors in our local real estate market's performance.
The included market update report is for the last full month of May 2017 for Capitol Hill and Central area condominiums only (area 390) , but we are seeing similar performance and market velocities in the downtown Seattle core as well.  Download Condominium Stats May 2017 Area 390
By Marco Kronen with Seattle Condo Review: A guide to Seattle downtown condos.