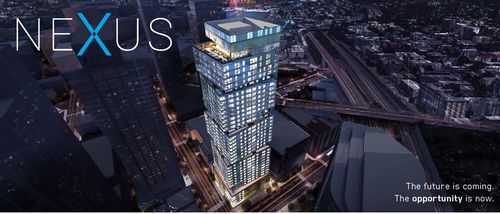 The newest condominium building to be announced already has it's sales website up and running, www.nexusseattle.com.
They are touting the location of Nexus at 1200 Howell as being in "Seattle's new multi-billion dollar urban living core" and comparing it to peer markets like SOMA in San Francisco.  It seems that the Development Company, the Burrard Group, is counting on all of the new and projected construction in the area including other residential towers, hotels, office buildings and the convention center expansion to bolster interest and vibrancy in this new emerging neighborhood.
What did we learn from the marketing website and press release?
BUILDING DETAILS:
Pricing will start in the $300,000s
Building will be 440 feet tall (40 stories)
403 condo units
One bedrooms, two bedrooms, three bedrooms, 2-level sky lofts and penthouses
Retail on the main floor
7th floor will have a co-working space, fitness center, dog run/lounge, great room, media facility and outdoor patio
Rooftop will have a sky club with social spaces, an exhibition kitchen, private dining, sky-bar, recreation room, view terrace with open air kitchen and a fireside lounge
Owners will be able to use an app to reserve in-building guest suites, flexible parking options and other services
SALES:
Begin taking reservations in May 2016, next month
Presale contracts will begin in fall
Break ground by late 2016
Begin closing purchases in 2019
It sounds like Nexus will be a tech savvy building with amenities to rival other amenity rich buildings in Seattle like Escala and Insignia.
We look forward to keeping you posted on the progress of Nexus.
To read the press release: Download Nexus Press Release
By Marco Kronen with Seattle Condo Review: A guide to Seattle downtown condos.