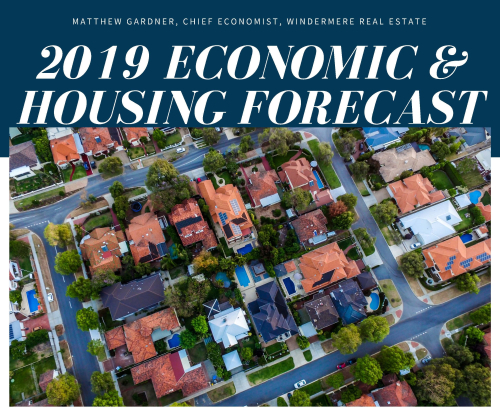 Windermere Real Estate's Chief Economist, Matthew Gardner, has released his 2019 Economic and Housing Forecast. Although it is not specific to condos, we think the information is valuable for anyone who owns real estate, or is thinking about buying and/or selling real estate in 2019. Here are the highlights.
THE US ECONOMY
He expects the US Economy to have one more year of relatively solid growth before we likely enter a recession in 2020
Any cyclical downturn will not be driven by housing
This cyclical downturn in 2020 (not 2019) will likely be caused by either the ongoing trade war, the Federal Reserve raising interest rates too quickly, or excessive corporate debt levels
THE US HOUSING MARKET
Existing Home Sales – In 2019, he anticipates that the number of home sales will rebound modestly and rise by 1.9%
Existing Home Prices – In 2019, he expects prices to continue rising, but at a slower rate as we move toward  a more balanced housing market and he forecasts the median home price to increase by 4.4%
New Home Sales – In 2019 he expects that sales of new homes will increase by 6.9%, the highest level since 2007, but this is still well below the long-term average and will likely be higher-priced homes being built which does little to meet the substantial demand by first-time buyers
Mortgage Rates – In 2019, he expects interest rates to continue to trend higher but we may see periods of leveling and will likely end the year with the 30-year fixed rate at around 5.7% and jumbo rates will remain competitive
CONCLUSION
He does not see this as a housing market bubble, just because a market might be overvalued does not mean a bubble is in place
The big story for 2019 will be the resurgence of first-time buyers – he believes those buyers will purchase more homes in 2019 than any other buyer demographic
Click this link to read the entire report: Matthew Gardner 2019 Economic & Housing Forecast.