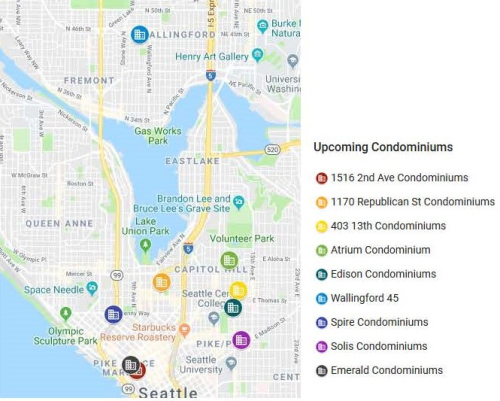 There have been several recent announcements about new condominium buildings being constructed in Seattle. For the last few years, the only residential developments being built in Seattle were apartments, minus a few outliers like Insignia and Gridiron, but we are starting to see a flood of new condominium projects hitting the scene again.
Why the switch from apartments to condos? Well, we think it is due to apartment buildings not being as profitable as they once were. Major investment groups who were once willing to buy apartment buildings at high price/unit price tags are not as bullish right due to the softening of the rental market. That softening is likely due to an oversupply of apartments entering the market, around 6600 rental units are coming just to the South Lake Union neighborhood by 2019. It is now more profitable to build and sell condos. Developers are very market driven so they will make these decisions based on what is happening right now in the apartment and condo markets, but it seems to us that they don't put onus on the future market conditions that their developments might cause. For instance, if we had built a mix of condos and apartments over the last few years perhaps we wouldn't have an apartment building glut right now and be starved for condos, we might just have balance. Instead it appears that their decisions are reactionary, if apartments are profitable then they build a ton of apartments, flood the market, the apartment market softens, then they switch to building condos and so forth and so on. Perhaps someday we will see a balance of what is being built, helping both the rental and real estate markets stay more stable over time.
Here are some recent articles on new and upcoming condo projects around Seattle:
2nd Avenue Condos in Downtown
South Lake Union Condos
403 13th Condos in Capitol Hill
The Neighborhood Collection Condos in Capitol Hill & Wallingford
Spire Condos in Belltown
Solis Condos on Capitol Hill
Emerald Condos in Downtown
Condos in Bellevue
By Marco Kronen with Seattle Condo Review: A guide to Seattle downtown condos.