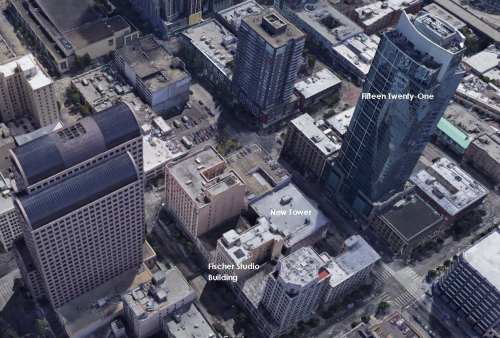 The site at 1516 2nd Ave, across the street from Fifteen Twenty-One condominiums, will soon be a new condo tower. The Chromer Building on the site will be torn down and replaced by a 45 story building containing 498 condo units and ground level retail.
The Developer is Pinnacle Plus is a joint venture of Plus Investment, who is also developing condo project in South Lake Union just announced.
The website for the new tower describes the tower this way, "Designed by the award-winning HEWITT team, the project demonstrates strength, femininity, and careful place-making. At once a destination and a gateway, it will join a family of historic and new buildings which nestle around the city's heartbeat: Pike Place Market."
This building is across the street from Fifteen Twenty-one condos and across the alley from the Fischer Studio condominium building.
Map from Google Maps
By Marco Kronen with Seattle Condo Review: A guide to Seattle condos.