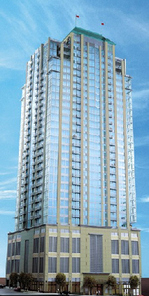 The Cosmopolitan on 9th and Virginia is on track to be open for occupancy early 2007.  With few units other than penthouses remaining, the $100 Million project is aimed at sophisticated urbanites. The first 9 of the 33 floors of the tour will house retail space and 8 floors of parking with 270 spaces.
The 250 condos will start on the tenth floor, above one floor of amenities, which will include luxuries such as a fully equipped gym complete with Yoga and Sauna, spa, guest suite, and a business center and lounge. Cosmopolitan is designed by Mithun Architects who is also involve in Domaine and Mosler Lofts condos.
Although currently there are only Penthouses and a 2 bedroom and 2 bathroom floor plan available, the majority of the units are comprised of studios, 1 and 2 bedroom homes. The remaining 2 bedroom floor plan is priced at just over $700,000 with the penthouses selling for $950,000 to $1.9 Million. The building units boast city, mountain and lake views, stone countertops and stainless steel appliances with gas cooktops.
Pros
– Lowest residential unit starts from the tenth floor, insulating residents from the street noise.
Cons
-Further away from the downtown core area.
SCR Scorecard (Updated 04/19/07)
Exterior           Good
Interior           Good
Location        Average
Amenities      Average
Value             Good
Overall           Good
Related post:
Technorati Tags: Cosmopolitan condos, Seattle condos, Downtown Seattle Condos, Miller Marketing, Mithun Architects, Seattle downtown condos