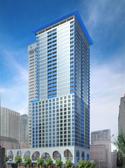 If you like the hotel-condo combo concept, Seattle will soon have a wide variety available for you.  Olive Way and 8th Ave.  The higher priced Madison Tower on 1000 1st Ave was recently completed with some owners closing (and probably some reselling) their units this month.  There's also the soon to be opened sales center for Second and Pine in central downtown priced similarly to Olive 8.  The king of all hotel/condo combos, Four Seasons, rolls in at a ceiling bursting price of $2,100/ square feet (see my previous post about Four Seasons here).  There's no doubt that these new hotel/condo combos will enable cash flush downsizers, in-city retreat buyers, and other buyers of means to experience urban living with truly world-class amenities.
Of all hotel-condo combos, Olive 8 is probably the best value (Second and Pine may be similar but the details are thin about that project at the moment).  Olive 8 will have 350 hotel suites on the lower 17 levels and 198 condominiums units from the 18th to the 36th level. The hotel/condo is being co-designed by renowned New York architect, Gluckman Mayner and local architect MulvannyG2.
(Update: 10/05/2006- The developer has recently announced that they will be adding three condo floors to the project. Pending final city approval, the tower will be built to 455 feet and 39 stories bringing it to a total of 231 condominium units.)
All units come with a balcony and amenities include a lounge, game room, terrace with gas barbeques, and pet exercise/shower area. Just like any other hotel/condo combo, residences have the convenience of using the hotel services.  Having trouble imagining why you'd need any services in your condo?  Imagine this:
Olive 8 hotel services include:
• Hotel lobby with concierge, dining, lounge and bar
• Business center, dry cleaning, and room service
• Health club, spa and pool facilities
• Huge meeting rooms with event catering
For a reasonable monthly fee, residents get to enjoy their health club and spa facility, take a yoga class, swim in the lap pool, or pamper themselves with a manicure.
Prices (note, all units less than $950k are sold out)
Open one bedroom            665-682       Low $400's to Mid $500's
1 bedroom and 1 bath       685-814        Mid $400's to Mid $600's
1 bedroom and 1.5 bath    825-1072       Low $500's to Mid $700's
2 bedroom and 2 bath       1,339            Mid $800's to $1M+
2 bedroom+den, 2 batth    1,538-1,586   Mid $900's to 1 M+
Penthouse   1833-2552                         Not available
For comparison purposes, what else could a home buyer get as an alternative to a $950k Olive 8 unit? You can either go with:
1.) Cosmopolitan which is two blocks north from Olive 8.  A one bedroom plus den on the 32nd level at 1,098 square feet is asking for $969,950.
Or
2.) Olive 8- A hotel/condo combo 2 bedroom unit which is 1,339 square feet on the 27th level for $950,000.
Or
3.) The Parc, one of the more accessible new condos in Belltown offers a 1270 square foot 2BR 2Bath on the 12th floor for $1,040,000.
Doesn't seem to be a tough call in this case.
All in all, if you're looking for a hotel/condo but don't want to pay ultra-premium prices, Olive 8 is definitely worth a look as a good value out of the hotel-condo combos in Seattle.
Olive 8 slideshow
Related posts:
Olive 8 and 5th & Madison Update
Olive 8 Auction Results
Olive 8 Going Auction
Olive 8 Price Guarantee
Olive 8 Update
Olive 8 Hard Hat Tour
Hotel Condo Shoot Out 
Technorati Tags: Olive 8, Second and Pine, Four Seasons, Madison Tower, Hotel 1000, Hotel/condo, Seattle luxury hotel/condo, midtown condos, downtown condos