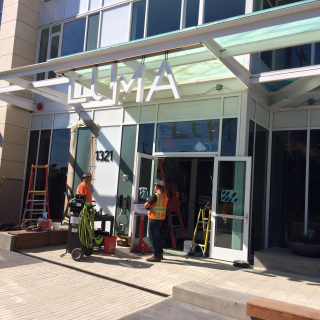 It is always great to hear that a new construction condominium building's sales center is moving into the building itself, as it indicates that the building is getting closer to be completed, allows potential buyers to see more of the final product and also means that buyer's who have already purchased will be moving into their new homes soon.
According to LUMA, the final construction details are being completed on the sales center and the furniture and art have started installation. The sales center will reopen on Saturday morning in the building!
Also, LUMA's Rooftop Terrace is almost complete, including the fabulous looking soaking pool. The artwork install, including  lightbox photos that have been placed in the lobby and throughout the corridor levels, has also begun. The lobby and amenity floor, including the cozy fireplace lounge, library and private dining room, are being outfitted with their furnishings now as well.
For sales, LUMA is now 75% sold. If you are considering purchasing in LUMA, now would be the time to check it out since you can get into the building and really get a great feeling for what it will be like to live in First Hill's newest condo community.
By Marco Kronen with Seattle Condo Review: A guide to Seattle downtown condos.