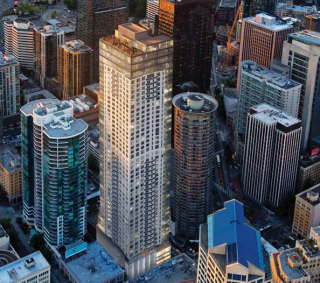 According to the PSBJ article that came out today, the building that is slated to be built at 5th Avenue and Stewart Street, called Altitude Hotel & Residences, might include all condos instead of a mix of condos and apartments as it originally claimed.
The City of Seattle is having a project review for this building tonight and if the design board approves the project, the developer, Stanford Hotels, would like to break ground immediately. The layout of the tower in terms of where the residential units and hotel rooms are located within the building is interesting. Retail will be on the main level along with hotel valet, then above and below that are several levels of parking. Then on level 6 would be the residential lobby and several residential amenities, which continue onto the 7th floor. The residential units begin on the 7th floor and go through the 30th floor. Then you will have hotel guest rooms from floor 33 through 43. On top of the hotel rooms you would then see the upper floor residential units taking up floors 44 to 48. Floor 49 would house the hotel amenities and floors 50 and 51 would have the hotel lobby, bar and restaurant (which would of course be a public space). Topping off this massive tower is the rooftop bar, also a hotel amenity. Not sure how residents of this tower will feel about the highest floors with the best views being public hotel spaces but only time will tell.
For now, Stanford hasn't decided whether or not to lease the residential units as apartments or sell them as condos so we will monitor this project and let you know any news as soon as we hear it.
By Marco Kronen with Seattle Condo Review: A guide to Seattle downtown condos.