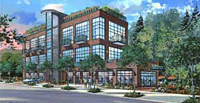 Madison Lofts is a 20 unit two story loft project located on Madison St between Lake Washington Boulevard and 29th Ave E. You don't see too many new condos here. Right behind the condo is the arboretum Park. Drive about 1 miles east and you will reach Madison Park. The neighborhood has a lot to offer. Tree lined street, restaurants, grocery stores, cafés and beautiful Lake Washington are all a short stroll away. Well landscaped homes with different architecture designs can be found in this upscale neighborhood.
Lofts units facing north are going to have views of the park. The size of the lofts will range from 850 to 1,497 square feet. Price starts at $400,000.
Interior features
16′ ceilings with a wall of windows
Freestanding stainless steel gas fireplace
Metal frame stairway to loft bedroom with walk-in closet and bath
Wide plank hardwood floors on the main level
Euro style kitchens with sleek stainless steel GE monogram appliances
Slab countertops and custom cabinetry in kitchen and baths
Custom lavatory and extensive tiling in the master and powder baths
Storage in unit
Pluses
• Easily accessible to the highway (520) using Lake Washington Boulevard.
• The convenience of walking to get your grocery, dropping a letter at the post office, getting a cup of coffee and picking up your clothes from the dry cleaners.
Minuses
• Getting in and out of the neighborhood may take some time during peak traffic hours since there are only a few roads that can bring you out of the area.
• Located along a major road, thus more road noise.
Some of you asked me about the Madison Lofts auction. They did have their auction a while ago. It went really well and they sold about ½ of the project. How much it went for were not disclosed. The developer is planning to hold the rest of the homes until construction is completed, currently estimated for spring of 2007.
Latest post on Madison Lofts.
Technorati Tags: Technorati Tags: Madison lofts, madison loft, madison lofts condo, lofts in Seattle, Lofts in Madison Park, Madison Park condos, Arboretum condos