Need to move to a new home but don't want to wait for new construction to be completed? You may be like many people who are looking at buying within the next few months and prefer new construction but cannot afford to wait till the new development projects are ready to move in (which usually takes about 18 months). If this sounds familiar, there may be an alternative for you: "almost 'new' construction."
They are actually called "conversions." Instead of starting from scratch digging a big hole in the ground, some developer prefers to buy a rental apartment complex, convert it to a condominium, and refurbish the building.
Conversions comes in all types, some are lightly refurbished with a new coat of paint and carpet while some go very extensively remodeling the bathrooms and kitchens with new appliances and finishes and sometimes even updating the exterior with new siding, windows, paint and sealant.
Here are four conversions on the market right now that are worth considering.
Queen Anne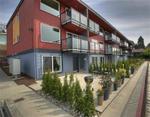 Urban Terrrace on 15th Ave West
23 one bedroom units overlooking Magnolia neighborhood with views of Salmon bay. A little tricky to get there but with the help of mapquest you should have no problems. Beautifully landscaped patios, repainted exterior, solid wood cabinets, stainless steel appliances, tile counter top and new carpet. Most of the units have an open floor plan and come with a view. Amenities include fitness center and a community outdoor patio. If you use their preferred lender, there will be a $2,500 buyer bonus.
Location 3.0/5.0
Interior 3.5/5.0
Exterior 3.0/5.0
Price 3.5/5.0
View 3.5/5.0
Overall 3.25/5.0
1 Bedroom low- Mid $200,000s
Residences at 5th Ave North
Newest conversion among the four conversions reviewed in this post, this rental apartment was built in 2003.
So far Residence condo has sold 31 units out of the 62 units in the building. Most of the units come with new carpet and new paint. Buyer has the option of upgrading the entire unit which will cost around $30,000-$50,000. You may be better off renovating the unit yourself than opting for the upgrade.
Location 3.5/5.0
Interior 3.5/5.0
Exterior 3.5/5.0
Price 3.5/5.0
View 3.0/5.0
Overall 3.5/5.0
Studio starts at $170,000's
One bedroom high $200,000's
Two bedroom Mid $300,000's and above
Town home Mid $400,000's and above
Capitol Hill
Plaza del Sol on E Olive Way
This one has the nicest interior finishes compared to the other 3. The unit features rich hardwood floors in the living area and slab granite countertops with stainless steel appliances. Their 1& 2 bedroom units come with a fireplace. Most units have a partial view of the neighborhood and the top level has an expansive view of downtown, Puget Sound and Queen Anne.
Location 4.0/5.0
Interior 4.0/5.0
Exterior 3.5/5.0
Price 3.5/5.0
View 4.0/5.0
Overall 4.0/5.0
Studio Low $200,000's and above
One bedroom High $200,000's to high $300,000's
Two bedroom Mid $300,000's to high $400,000's
Bolero on Boren Ave
Bolero has a mix of studios, one bedrooms and two bedrooms. This apartment was built in 2001 and amenities include outdoor deck, fireplace lounge and fitness center. The unit features new carpet, built in closets, and Silestone countertops in the kitchen and bathroom.
Location 3.5/5.0
Interior 3.5/5.0
Exterior 3.5/5.0
Price 3.5/5.0
View 3.0/5.0
Overall 3.5/5.0
Studio $170,000 to low $200,000
One bedroom Low $200,000 to high $200,000
Two bedroom Mid $300,000's to Low $400,000
Overwhelmed with conversion choices? It all comes down to what's more important to you. A unit with a view, open floor plan and affordable price? Urban Terrace may be a good match. Or something with a better location and higher quality finishes and you are willing to pay more? Plaza Del Sol will probably fit all your requirements.
Technorati Tags: urban terrace, seattle conversions, seattle condos, seattle realtor, Residences at 5th Ave North, Plaza del Sol, bolero seattle, Capitol hill condos, First hill condos, Queen Anne condos