Even though this blog is all about condos, I recently attended the Street of Dreams event and thought I'd share some observations. For all you condo owners out there looking for an affordable country retreat, these are probably a bit more than you need 😉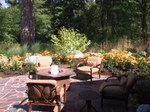 The Seattle Street of Dreams was held at Allen Lake this year. The event started on July 15th and will be ending today at 9.00pm. This year's event featured 6 luxury homes sitting on a ranch consisting of 30 + arces of land with natural features including a stream, access to private lake, grassy fields, towering evergreens, and beautiful wetlands.
-The moment you step into the homes, you are greeted by soaring halls and grand stairways. Ladies, you can find your most perfect kitchen in these homes that are beautifully tiled with 6 burner gas cooking stoves and a massive kitchen island. Some of the top of the line appliances includes a $13,000 stainless steel and glass door refrigerator and a $2,900 built in coffee system.
If you like to spend a lot of time in the bathroom, the spa-like designs can definitely relax you after a hard day's work. There are seemingly endless varieties of sinks, faucets and fixtures in these homes.
Multiple fireplaces both indoors and outdoors can be found in the homes. Most of the homes come with walk in wine cellars as well.
My favorite home was house number 3, "The Retreat" at Water's Edge. There is a central skylight that brings natural light into the house, an outdoor pool and spa patio. There is also a hidden spiral staircase behind a bookcase leading to a bar and wine cellar. I also loved the separate clubhouse that opens out to the lake with an outdoor fire place.
Each home had its own unique personality. Even thought the prices were in the multi-millions (house #3 was ~$5.5M) this is a great annual event to get some inspiration on design, use of color, and see the work of many talented people.
How useful was this post?
Seattle+street+of+dreams seattle+homes+event luxury+home+designs seattle+homes