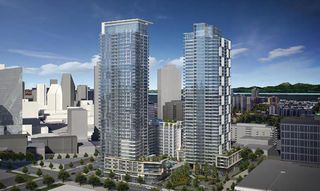 According to the Puget Sound Business Journal, the previously announced tower project to be built on Denny and Fairview in South Lake Union, might be condos after all.
The Onni Group out of Vancouver BC is now saying that their company might build the new project as condominiums instead of apartments. The site of the project is between Boren Ave N and Fairview Ave N and from Denny Way to Thomas Street. They had originally proposed to build 4 towers on the two lots, two at 41 stories and two at 24 stories. However now, the first phase of construction would be the two 41 story towers which would include almost 1200 residential units, which would make it Seattle's largest ever condominium project if it is indeed built as condos. The second phase would be on the second block and would now contain a 29 story tower and 36 story tower that will also be residential with retail.
With the market bringing nearly 7,700 new apartment units over the next three years, the competition for rentals might weaken with the influx of inventory. But with Insignia already 80% sold out and only rumors of a few more condo developments coming into Downtown, Belltown and South Lake Union, new construction condo options in the area are few and far between. These might be factors that are swaying the developer's decision on whether to build apartment units or condominiums.
However, this project being built as condos is still a 'might be' but it does seem more likely than it did 2 years ago when the project was first announced.
Rendering: Chris Dikeakos Architects Rendering
By Marco Kronen with Seattle Condo Review: A guide to Seattle downtown condos.