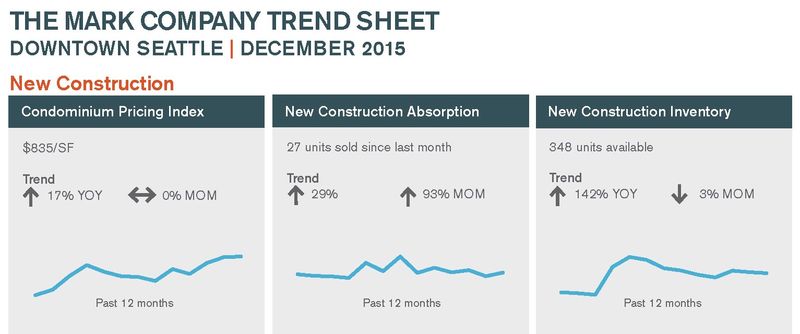 In light of our recent blog post about Developer InHaus calling it quits on Solo Lofts condo project in Ballard along with a recent report that a Canadian developer might go with condos on their new proposed 1,200 unit project in South Lake Union, I thought it might be a good time to pause and review the presale condo market. In specific, I want to examine the options that exist for new construction and the performance of those projects as they compare to the resale inventory downtown. I love to share stats and numbers and often I like to share other people's numbers as well so that you don't always hear the same thing from me. A different perspective is helpful, I feel.
According to the December Trend Sheet report from the Mark Company, the sales and marketing firm representing Insignia Condos, reflecting on the Downtown Seattle Market for new construction, it appears their Condominium Pricing Index for new construction is showing the index up 17% over last year at $835/sq ft. Additionally, of the 4 actively selling new construction developments in the downtown area, there are 348 new construction units available at this time. While this may sound like a lot, it only represents 34% of the total unit count of 1,009 condo units either built or under construction downtown in these four projects. That means 66% of the new construction inventory is already spoken for downtown Seattle.
Downtown Seattle New Construction Report Breakdown:
Four Seasons Residences         36 total units: They are 94% sold with only 2 remaining
Gridiron                                   107 total units: They are 15% sold (reserved)
Insignia                                    698 total units: They are 83% sold
Luma                                       168 total units: They are 30% sold
Outside of Downtown (not included in the Mark Company's downtown report):
Vik Condos – Ballard              117 total units: They are 91% sold and started closings this month
Hyde Condos – Phinney          32 total units: They have 4 reservations since they began pre-sales in Nov
Of the 149 new construction condos out of the Downtown area, 121, or 81%, are sold
It's easy to see based on the fact that 66% of the new construction inventory downtown is already spoken for, why we are still seeing a competitive condo market for resale condos as well. With over 52% of the total resale units on the market already in pending sales, this leaves us with about 0.9 months of inventory based on the remaining 36 units active, which is considered very low supply and within a seller market environment, according to the report. Download Mark Co Trend Report Dec 2015 here.
The take away? In my opinion, this report tells me that the new construction inventory, at least at this point, does not seem to be solving the low inventory issue we are experiencing in the Seattle condo market, but it does provide a great additional option for buyers to consider in this inventory starved market. Although you will, in most cases, pay quite a premium for the luxury of buying brand new. The old days of developers giving the pre-sale buyer a bit of deal for buying early are long gone in Seattle.
At last month's Condos over Coffee event I held in Belltown, attendees and I discussed these new construction condo projects in more detail. Potential buyers, in general, were focused on pre-sales as it gave them the time to finish saving for their down payments and they liked the ability to select their favorite floorplan, which is obviously not an option when buying a resale. Many also felt that buying a resale was more stressful than a pre-sale due to the low inventory offer review environment several have encountered.
We'll update again in March with a look back at the entire 1st quarter of 2016.

By Marco Kronen with Seattle Condo Review: A guide to Seattle downtown condos.