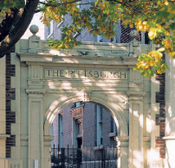 The Pittsburgh, a 1907 apartment building in Lower Queen Anne, is in the process of being converted into condominiums. The units will range in size from 255 to 867 square feet and prices will range from $200,000's to the $40,000's. In addition, four small condominiums will be available for around $150,000.
Pioneer Property group, the developers behind the project, were also behind the recent conversion of Queen's Court, a 1930's apartment building across the street from The Pittsburgh on Warren Avenue. Pioneer Property Group describes itself as niche developer with a social mission to "increase the density and supply of urban housing without adverse impact on our architectural heritage or the urban landscape."
According to them, the cost of maintenance of older buildings is too high for apartment use and makes them likely to be targeted for demolition to make room for more profitable high-rise buildings. By investing in condominiums and creating a community of buyers, Pioneer Property hopes to maintain the architectual charms of the neighborhood and also make it less enticing for other developers to replace the buildings.
Improvements done for the Queen's Court building and which can be expected at the Pittsburgh include fir moldings, glass doorknobs, plaster walls and new bathrooms and kitchens with stainless steel appliances and granite countertops. Sales for the Pittsburgh condominiums are expected to begin in April (Update : May, 2007).
Technorati Tags: The Pittsburgh, Queen's Court, Queen Anne condos, Seattle condos, seattle conversions, Pioneer Property Group