The South Lake Union sneak preview took place last Saturday under a giant white tent next to the Discovery center. It was certainly one of the events that many prospective buyers have been waiting for with anticipation. DJ playing music, hors d'oeuvres served and a steady stream of Martinis from one of many drink stations. The sneak preview showcased the four condo projects that Vulcan has been planning over the last few years. It is evident that the market has a bigger appetite for more of Vulcan's condos after the successful sell out of their units in the 2200 Westlake project. The four new condos will add approximately 596 units to the South Lake Union community.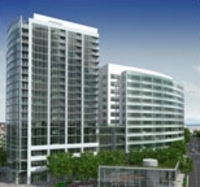 This is going to be a 450,000-square-foot, mixed-use development with residential units occupying from 6 to18 stories in the South tower. It is going to be right across from 2200 Westlake on 9th and Denny Way. Vulcan is designing the development as a high performance "green" building and it will feature more natural daylight than traditional buildings, energy and water saving fixtures, and the use of environmentally sensitive building materials. It will also feature a garden terrace, an exercise facility and an entry atrium. This will be a glass building so it looks like Seattle is starting to catch up with Vancouver glass skyline (we can all thank our planning boards that 7 story earth-toned synthetic stucco projects are a thing of the past).
There will be four different standard color palette options for homebuyers. Acrylic door panels are available to separate the bedroom and living area. Other features include Bosch appliances, limestone, wood, and broadloom carpets. Their open one bedroom floor plan features a private entrance area, open living room, balcony and end to end windows from the bedroom to the living room.
My favorite 2 bedroom floor plan is their 05 series. Windows stretch all the way from the living room to the two bedrooms giving each room an expansive view of the neighborhood. One draw back of the 05 series is that it comes with a small balcony. Their biggest unit is approximately 2,300 square feet: a 2 bedroom plus den penthouse that comes with two separate balconies Most of the floor plans are nicely layed out and very functional.
Estimated Price range:
Open One Bedroom- 703 sq. ft.
Low $400,000s to high $500,000s
One Bedroom- 705-895 sq. ft.
Mid $400,000s to mid $700,000s
One Bedroom + Den- 877-977 sq. ft.
high $500,000s to low $800,000s
Two Bedroom- 1127-1375 sq. ft.
high $700,000s to over $1 million
Penthouses- 1559-2285 sq. ft.
Price over $1.6 million
This project is targeting first time home buyers. It will include 94 homes featuring a mix of flat lofts, full height lofts and flexi lofts. Veer Lofts is geared towards Manhattan loft style with exposed beam ceiling, concrete floor and open layout.
During the event, it seemed like most visitors preferred the flexi-lofts. I can see why. The flexi lofts are approximately 950 square feet with 635 square feet on the main level and 315 square feet on the loft level. Compared to the other floor plans, the flexi loft has a bigger bedroom space and definitely more room for furniture. SCR readers now know which floor plan will probably sell out first. [update: SCR readers aren't unanimous about this due to the lower ceiling height in the sleeping section…I guess we'll have to wait and see if the lower sleeping ceiling is a deal breaker for most buyers]
If you are thinking of investing in this condo, you may be in for a big disappointment. Sources from the sales center revealed that this condo is targeted more for buyers who are purchasing it as a primary residence. Unlike Enso and Rollin, Veer loft may not allow investment purchase or may come with a lower investor cap.
Estimated price range:
Flat lofts- 620-788 sq.ft.
Mid $200,000-mid $400,000
Flexi lofts- 640-740 sq. ft.
Mid $300,000-low $500,000
Full height lofts- 800-1,000 sq.ft.
Low $500,000-$600,000
Right behind the Cinerama will be the new location for The Martin. This 24 story development will include 170 condominium unit and 4,000 square feet of retail space.
Homes feature open and efficient floor plans with gas fireplaces and expansive windows. Other features include a multi-level roof deck terrace with outdoor kitchen, grilling area and outdoor fire place. This project will appeal to young professionals who work in the downtown area. There is also a dog park on the sixth floor. I think it is great that developer is starting to include pet friendly amenities in their projects – I know my yellow lab is getting bored of the same crowd on Second and Bell.
The Martin is the only condo that doesn't have any floor plans for review at the moment. Bright, clean and minimal is the way the condo is being described (perhaps it will be Lumen-esque).
Prices for one bedroom will start from Mid $400,000's to $600,000 and two bedrooms will be around $600,000 to $800,000.
Rollin St is going to be an 11 story project which will feature 208 Soho style lofts and 25,000 square feet of retail space. This 414,000 square feet development will be located at the northeast corner of Westlake Ave North and Denny Way.
Rollin St homes will include features like high ceilings, walls of floor-to-ceiling windows, gourmet kitchens, hardwood floors, Zebra strip wood cabinets and fireplaces. Home buyers can either take out or add a different height sliding door. The theme at Rollin like Lumen and others is that you can create your own flexible living space. Some of the finishes displayed has a antique bronzed feel to it. It will be interesting to see how the final finishes combination will turn out.
Many of their two bedrooms have a long stretch of balcony. You will either find an L shaped balcony on the corner of the living area or end to end living room and bedroom balcony or balcony that wrapped around two side of the unit.
Estimated Price range:
Open one bedroom- 703-1,085 sq. ft.
Low $400,000-$800,000
Two bedroom and Penthouse- 1,303-2,003 sq.ft.
$800,000-Over 1 million
This sneak preview event only gives prospective buyers a sniff of the condo. The real bite is still far along. Vulcan is not using a traditional sales method for their three condos (Veer Lofts, Enso and Rollin St). Buyers who are interested in purchasing a unit have to go through a few hoops before becoming a true Vulcannaire.
1.) First, you will have to call up for an informational overview appointment on June 21st. During the informational overview appointment, you will be given more information on how to prepare yourself if you want to buy a unit in any of the three condos. You will look at floor plan and fill out a Homebuyer preference form. You will mostly likely be given information on how to get yourselves pre-approved by their preferred lender at that point.
2.) You will fill out a lottery card and submit your pre-approval for the drawing by Sept 1st. Existing 2200 Westlake homeowners can also enter the drawing. In fact, they will have a special 2200 Westlake box for each condo. Five 2200 Westlake homeowners will be randomly picked first for each project. After these five lottery cards have been chosen, the remaining 2200 Westlake buyer box will be merged into the larger project boxes and the random drawing will continue.
3.) The order in which the cards are drawn determines the order of the home selection. Once the drawing is complete, you will be contacted and given a day and time to select your home. Notification of this selection appointment will take place beginning the week of Sept 10 and ending Sept 24th. You will be given 8 hours to confirm if you would still like to keep the home selection appointment.
4.) Finally, around late Sept or early Oct you will attend the home selection appointment. During the appointment, you will need to sign a purchase and sale agreement and provide a 5% good faith deposit.
5.) The lottery card you enter for the drawing must match that of the name(s) on the purchase and sale agreement. If you are interested in two different condos, you are allowed to enter one lottery card in each condo that you are interested in.
A few tips:
1.) Organize your files and get your pre-approval by a lender. This helps you to focus on the price range that you should look at.
2.) Think about the condo that you are interested in. If you are buying as an investment and feel that Enso is your first choice and Rollin is your 2nd choice.You may want to enter both. Since Rollin has more units (208) than Enso. Your chances are higher with Rollin. If you don't get Enso, you might get Rollin. If you only enter one, you might end up having none. If you are so lucky to have both, you can always have the option of dropping one.
3.) Look at the different floor plans and start stack ranking them in terms of the top five floor plans that you like. If someone before you picks the unit you like, you will know what your back up units are.
4.) Consider retaining an experienced Realtor (hint, hint). Read here for my post on why you should be wary of purchasing a condo naked.
So are you ready to become a Vulcannaire?
Click here to request for a detailed comparison of the 4 condos in SLU.
Technorati Tags: Enso, Rollin, The Martin, Veer lofts, South Lake Union condos, Rollin condo, Enso condo, Veer Lofts condo, The Martin condo, Discovery Center, Lumen, 2200 Westlake, Pan Pacific Hotel/condo