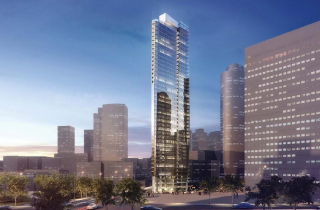 The tower we wrote about back in May, that will be constructed on the small triangle lot between 8th Ave, Bell St and Denny Way where Shilla Restaurant once operated, will now be called The 8 Tower.
According to PSBJ, the tower will also now be taller and contain more units. It will rise to 42 stories and have 312 residential units. There will be open 1 bedroom, 1 bedroom and 2 bedroom units. Only 72 parking spaces will be provided. There will be retail/commercial space on the street level. Amenities for the building will be located on the 2nd floor and on the rooftop and will include a lounge, outdoor terrace and a dog run.
It is still undecided whether or not the building will be apartments or condos. This will apparently be determined by the investors that end up signing on with the project. Stay tuned.
By Marco Kronen with Seattle Condo Review: A guide to Seattle downtown condos.
Rendering by Caron Architecture