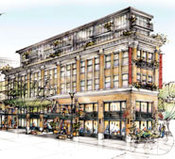 If you are looking for a loft with historic feel that combines with modern days touch, check out Trace Lofts. They'll be having their preview event on Jan 18th.
Venue: Osteria La Spiga
1429 12th Ave, Seattle WA 98122
Time: 6.30pm to 9.30pm
The Pine and Pike corridor has been an area where you can find quite a number of lofts condos. Read more on lofts in this neighborhood.
Technorati Tags: Trace Lofts, Trace North, Ted Schroth of GTS Development, Johnson Architecture & Planning, 12th & Pike, 12th & Madison, 12th and Pike, 12th and Madison, Maestri Design, Seattle condos, Seattle lofts, Capitol Hill condos