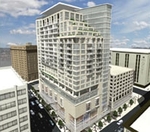 Second + Pine project explores the boundaries of mixed use developments. Located between Pike Place Market and Downtown Seattle's retail core, Second + Pine will feature premium condos above a yet-to-be-named high-end hotel, a local grocer, a destination restaurant, a health club and day spa and boutique retailers. The hotel which is currently under development by Starwood Capital Group will be from a new class of hotels, "in-city resorts." The project is a joint venture of Avalon Holdings and Starwood Capital Group Global, LLC (AvStar Seattle, LLC).
Second + Pine has been holding a series of design preview events since April and response was so overwhelming that more than half of their units were reserved for priority presales with previews available by appointment only. The sales center is scheduled to open soon and reservation holders will be invited to make their interior design selections.
Developer, Paul Brenneke sought the design inspirations of seven of the area's leading interior designers to focus on the seven exclusive town homes. Known as the "Seattle Seven," this collection of interior designers include Steven Hansel of Steven Hensel Design Studio in collaboration with Eggleston Farkas Architects; Nancy Burfiend of NB Design Group, Inc; Christian Grevstad of Christian Grevstad Inc; Rocky Rochon of Rocky Rochon Design; Dixie Stark of DA Stark Interiors; Garret Cord Werner of Garret Cord Werner, LLC: and Jeff Lamb of Sienna Architecture Company.
The Seattle Seven will present their creations as part of a private design showcase this fall for members of the media and registered home buyers interested in a presale opportunity. Prospective home buyers are welcome to adopt any of the interior design concepts created by the Seattle Seven or may introduce their own ideas.
Second + Pine has four different groups of homes available:
In City Suites
• Located on floors 9 through 13 and are located within the hotel
• Range in size from 700 sq. ft. to over 1,200 sq. ft.
• Priced from from the mid $500,000s to more than $1 million
• Fully furnished
• Owners can elect to rent them out through the hotel when not in use
Residences
• Located on floors 14 through 16
• Range in size from 880 sq.ft. to 1,700 sq.ft.
• Prices begin at below $600,000 and can reach to over $1.7 million
Premier Flats
• Located on levels 17 through 24
• Range in size from 1,300 sq.ft. to 3,800 sq. ft.
• Priced between low $800,000s to well over $4 million
• Feature outdoor patios, some with views of Elliott Bay and Downtown Seattle
Penthouses
• 7 individual residences on levels 24 to 26
• Fully customizable to owners specification
• Ceilings can reach 20 ft., with the option of large foyers and/or two level living
• Feature main level patios and private rooftop terraces
• Pricing is available upon request at sales center
Designed by interior design firm Yabu Pushelberg, a renowned Canadian firm that specializes in hospitality and retail environments, Second + Pine will include wide plank wood flooring, custom kitchens, premium appliances and original styling.
How does Second and Pine compare to Olive 8 ? Both have comparable amenities. Olive 8's architectural design is simple and clean with blue-tinted glazing and the use of vertical glass fins to catch light. Second and Pine's exterior will use a mix of contemporary and traditional materials including glass curtain walls and limestone for the residential levels. Unlike Olive 8, which is located on the east end of downtown Seattle, Second + Pine is in a more central location in downtown between the retail core and Pike Market. The renovation of the Macy's garage will also enhance the curb appeal. Second and Pine is scheduled to break ground this winter for completion in 2008.
Pros
– Location, location,location
– Rental service for their City Suites
Cons
Updated on 12/31/07
– No parking for City Suites
– No washer and dryer in the City Suites
Technorati Tags: Steven Hansel of Steven, Hensel Design Studio, Eggleston Farkas Architects, Nancy Burfiend, NB Design, Christian Grevstad, Rocky Rochon, Rocky Rochon Design, Dixie Stark, DA Stark Interiors, Garret Cord Werner, Jeff Lamb, Sienna Architecture 2nd and Pine, Second and Pine, Olive 8, Paul Benneke, Windermere Onsite, Urban condominiums, downtown condos, Seattle hotel condos, Seattle condos