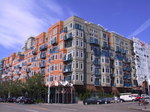 A lot of you may have noticed that Belltown court is a giant white plastic monstrosity these days. Enveloping the entire block of First and Second ave between Battery and Wall, it is distinctly not a concrete and steel marvel like so many of it's newer neighbors.
Nontheless, Belltown Court may be one of the best investments this summer. Why would someone consider a leaky, wood-framed, condo when architectural marvels are popping up like mushrooms? Before we go into the positives, let's call out all the negatives.
It's a wood framed building. When you walk the hallways or your upstairs neighbors move their furniture, you'll be able to tell. For some people, like me, it's the difference between closing the door in an Audi and a Honda. There's nothing wrong with wood framed buildings but they just don't feel as vault like as concrete and steel. For first time home buyers, buyers on a budget, or investors – this is probably fine but for people who can spend an extra $50-100k for a more solid feeling building, it's something to keep in mind.
It's in the heart of Belltown but it's in the heart of Belltown. Weekends nights are full of people trying to paint the town red — depending on your age, this is a great source of energy and color or an annoyance. There's usually at least one panhandler within a block of the front door though they're fairly passive.
The construction won't be done till the fall. So if you move in now, you're not gonna have any windows (you'll get some light since the plastic is semi translucent) and you're gonna be surrounded by construction teams banging away at the walls.
Still reading? If you haven't been scared off yet, here are the reasons why I think it's still a great place to live and invest.
Location, location, location. Belltown Court is essentially in the epicenter of Belltown. Kitty corner from El Gaucho, above Macrina Bakery, Lampreia, and Saito's, on 1st between Battery and Wall, this is the heart and soul of Belltown living. Veer, Mosler, Lumen, and all the rest are kind of on the periphery of the Belltown core. Site 17 isn't too bad, but still not on 1st avennue itself.
Price per square foot probably 25% less than what you'd pay for new construction like Lumen. For the price of a 600 square foot Lumen studio, you could get a 2BR 2Bath 900 squarefoot unit in Belltown Court. If you can get a hold of one before the construction is complete this fall, you might be able to get an even better deal.
Brand new roof, stucco siding, and windows (hence the plastic wrapping).
Great little things like an indoor pool, sauna, hot tub, cozy courtyard, the Belltown Market downstairs, and nice floorpans make a big difference.
Technorati Tags: belltown court, seattle condos, belltown property, seattle real estate investments, lumen, veer lofts, mosler lofts, site 17, Belltown condos, Belltown condo, Macrina Bakery