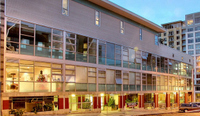 Designed for the hip and trendy, Carbon 56 (formerly known as Aristo Apartments) is located in the Denny Triangle neighborhood on 2015 Terry Ave. Capitalizing on the success and cache of 2200 and the new Whole Foods located a block away, Carbon 56 is aimed at the young professional urban dweller who can't afford or doesn't want to pay over $500,000 for a condo.
The building was originally constructed in 2003. Carbon 56 has fifty-six New York-style lofts with five different floor plans. Pricing starts in the low $300,000s and go to the high $500,000s. Most units are priced in the low to mid $300,000s. The condos range in size from 660 to almost 1,300 sq ft. and boast 13 feet high floor to ceiling windows and maple hardwood floors. Larger floor plans have elevated resting areas.
The building also has a common terrace and fitness center. Majority of lower floor east and west facing units either come with a private patio or/and private entrance. The units were first offered to tenants in the end of January and now are available to the public. Carbon 56 Price list.
Pros
– Tall ceilings and oversized windows
– One block away from Whole Foods Market
– Good price per square foot pricing
Cons
– The views are sparse
SCR Scorecard
Exterior Average
Interior Average
Location Good
View Below average
Amenities Below average
Value Good
Overall Average
Final Thoughts:
You don't have to be a hotel/condo or pay the hefty vulcan premium for one to be next door to Whole Foods. A very attractive choice for real urban professionals who don't have $600k plus to spend on a condo.
Technorati Tags: Carbon 56, South Lake Union condos, 2200 Westlake, 2015 Terry Ave, Aristo apartment, work/live lofts, Seattle Lofts, Denny Triangle condos, Kauri investment