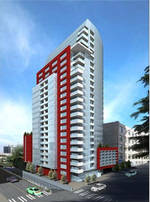 Slated for ground breaking in mid-2007 and completion in 2009, Seneca Towers will be built on the intersection of 8th and Seneca. The space is currently occupied by two residential buildings which will be demolished.
Located on the cusp of downtown Seattle, the First Hill area condo will contain both a 9 story and a 25 story stack of condos. Designed by MulvannyG2, who is also the co-architect for Olive 8, Seneca Tower is located within easy walking distance of downtown Seattle, the hospitals on First Hill, and the Convention Center.
The two tower system is designed to maximize the views of the interior facing units. The views of the building will overlook Freeway Park. The new building is a result of relaxed height restrictions in downtown Seattle passed by the city council in 2006.
According to the land use permit submitted to the city of Seattle, Seneca Towers will include 285 units with retail space on the ground floor in the 25 story building and 25 units in the 9-story building. Homes are expected to range from 450 and 1,600 sq ft.
Technorati Tags: 8th and Seneca, Seneca Tower, MulvannyG2, Olive 8, Eight and Seneca, pre-sale condos, Seattle condos, Downtown Seattle condos