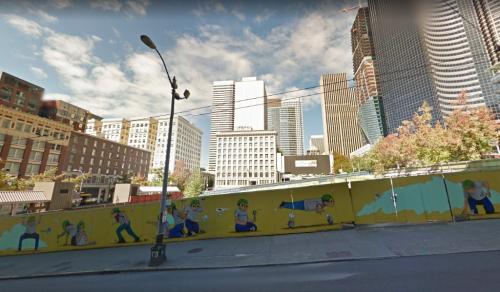 Bosa Development's Civic Square condominium tower will now be a 57 story skyscraper. Previously reported to be only 43 stories, this is a big change in the number of units that will be built in this new Downtown condo project.
According to the PSBJ, this new condo tower on the block between Cherry and James streets and 3rd and 4th avenues, will house 520 residential units and 640 stalls of underground parking as well as boast, as required by the city, a public plaza area. The PSBJ article also mentions that there will be retail and coffee shops on the 3rd Ave side, a fountain and a curved facade facing 4th Ave.
The project is just entering the approval process with the City so we are a ways off from the ground breaking, most likely starting in late 2018 or 2019.
We look forward to seeing another Bosa condominium project in the city.
By Marco Kronen with Seattle Condo Review: A guide to Seattle downtown condos.
Photo from Google Maps