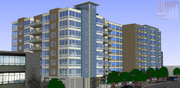 Hyatt Place, a subsidiary of Hyatt Hotel is planning to build a 158 hotel suite and 56 residential units, either condos or apartments on the site of Greg's Japanese Auto, 6th Ave and Denny Way.
If it becomes a condo, Hyatt Place will be offering more limited service as opposed to other luxury hotel in Seattle. "The market conditions will be the determining factor if it will become a condo or an apartment," said Kent Angier, President of Kauri Investment.
Designed by Johnson Braund Design Group of Seattle, Hyatt Place will have two buildings, each with separate entries and hallways instead of the traditional hotels with condos stacked above. The exteriors of both will be connected. Read more on related article.
Technorati Tags: Hyatt Place, Denny Triangle, Seattle hotel/condos, Seattle condos, Belltown condos, Kauri investment