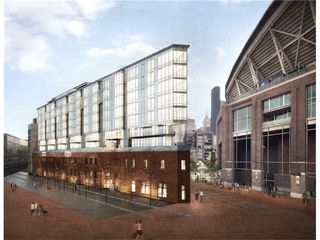 This week I popped by the new sales center to talk with the Sales team to see how things are going.
Well, despite last week's shocking public reaction to Gridiron's lofty prices for their lofty units, they have already reserved over half of the 26 units that were released as part of their phase one.  With pre-sale prices that seem to hover at around an average of $831/sqft based on the those listings posted on the MLS for Gridiron, the days of getting a good deal when you buy early seem to be gone.
Earlier last week the developer released about 25% of the 107 units to the public with pricing for an opportunity to reserve a unit.   The reservation period, along with buyer's $10,000 refundable reservation deposit, is in effect until the purchase and sale agreement and additional specifics such as the amount of HOA dues are worked out by the developer.  Then buyers with reservations will have a couple of weeks to review the new purchase and sale agreements, along with the required disclosures before making a final decision to move forward with a purchase.


At this point with over half of the units in the 1st phase reserved, it appears that the brave souls willing to pay over $800 per square foot might be setting a new benchmark for pricing not only in Pioneer Square, but in Seattle as a whole with pricing that is on par with other new construction high rises offering more amenities, loftier views, and building staffing services such as concierge.  Up until now, only the higher floor units with dramatic views at Insignia in Belltown and Luma on First Hill have been able to justify pre-sale condo pricing up near $850-$1,000 per square foot.  Looks like the location and unique offering of being in Pioneer Square is, at least so far, justification for these types of prices.
The High and Low of the offerings at Gridiron this past week:
Unit #1109 – This is the most expensive unit in the phase 1 release. It's a corner penthouse unit with both west and east exposure and has 2 bedrooms and 2 baths in 1,430 square feet on the top floor in the unique shaped south end of the structure. It lacks a deck space of its own.  It's priced at $1,275,000 ($891/sqft).  IT'S RESERVED
Unit #502 – This is the smallest and lowest priced unit in the phase 1 release. It's a west facing studio with 458 sqft of space and a deck space.  It's priced at $383,800 ($837/sqft). IT'S RESERVED
With the fast paced reservations during this first week, I'd also expect to see potential price increases in later phases.  Nothing confirmed on this, just my hunch.
Sales staff reported they will not likely release phase 2 until the first phase is near 95% reserved.   As of my visit just less than a week after reservations started, they were almost 60% reserved of the 26 units offered in phase 1.
By Marco Kronen with Seattle Condo Review: A guide to Seattle downtown condos.