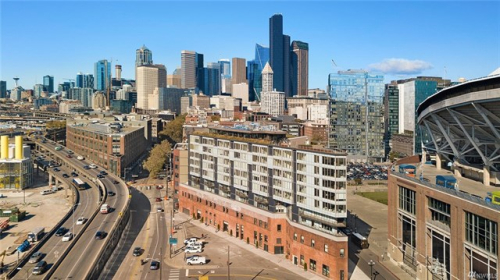 Gridiron Condominiums, the project constructed next to Century Link stadium in Pioneer Square, is rare in that it is offering 12 income restricted condo units for sale. Through a special arrangement with King County, these 12 homes will be available at a restricted price for modest-income households.
Details:
12 income restricted units (1 is sold)
Prices range from $350,890 to $400,882
Studios and one bedrooms throughout the building
Sized from low 400 square feet to mid 500 square feet, with one over 600 square feet
Available to households earning less than 115% of area median income – individuals whose income doesn't exceed $86,000 and families making less than $98,440 qualify
This is a great opportunity to purchase a new construction condominium home in Seattle if we meet the qualifications.
For those who do not meet the income restriction requirements, Daniels Real Estate (the Developer) and HomeStreet Bank (the preferred lender) are also offering a special financing offer on the 36 market-rate condo units that have not yet sold. The program allows for a 3.5 percent down payment option and mortgages starting at 2.5 percent, second year mortgages at 3.5 percent and then third year through remaining term at just 4.5 percent interest rates. In order to qualify for this special rate, a buyer has to live at Gridiron and they have to be in a contract to purchase by November 30th and closed by the end of the year.
By Marco Kronen with Seattle Condo Review: A guide to Seattle downtown condos.