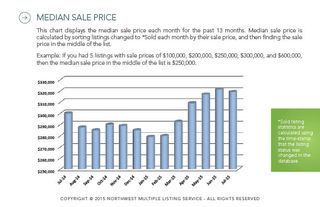 You may, or may not, have read the two articles recently published last week, one by The Seattle Times, and the other by The Puget Sound Business Journal, regarding July home prices falling and a cooling of the market.  One article states that the market is cooling and the other says those figures don't necessarily mean that the market is cooling.  We have been getting questions about this from our clients and readers, so I thought I would add my perspective.
Why do we bring up these contradicting articles? It is always good to remember that all data can be interpreted differently and it is important to dig into it to see what the numbers really mean to you specifically.  Also important to evaluate, is whether or not the numbers are talking about single family homes, condos, or is it a combination of both? Also are the numbers an average of King County as a whole or specifically here in Seattle?
Both articles contend that sales prices declined between June to July in the Puget Sound Region. Which is true from a month to month comparison, but median closed prices are still up 5.9% percent for single family homes over last July in Seattle, with condo prices being up 34% over last July in Seattle.      
There may be a "cooling" in closed prices in some segments of the market when comparing July to June this summer, but the velocity of sales and the number of sales increasing over last year,  also indicates that there is still a shortage of inventory, which will still drive pricing up over the long term. After the summer months come and go, I anticipate a "warming" back up until the holidays where prices may ebb again.  This is especially true, if feel, in the Seattle condo market, where the heating up is just really starting with Insignia just recently starting it's closings of the first phase of condos in July.  These will set a new bench mark for condo prices downtown and possibly create some inventory movement caused by move up buyers who have purchased in Insignia and therefore need to sell their current condos (or single family homes) in the city.  
*chart above is the median home prices for 13 months for both Condominium and Residential
listing data throughout NWMLS's coverage area in Washington State but is representative of the overall pricing trends
By Marco Kronen with Seattle Condo Review: A guide to Seattle downtown condos.