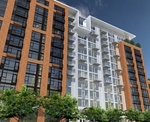 Gallery condos will be just a few blocks north of Mosler lofts. The pre-selling starts in late Summer/early Fall 2006. Estimated completion date is Mid 2008.
There will be 220 units of Sky lofts, one and two bedroom flats and street access town homes ranging from 500-1,300 square feet.
Estimated price range- Mid $200,000s to over $2 million
Styling cues include brick with steel decks and glassy and contemporary center sections for the exterior. Amenities include a two story lobby, entertainment center, fitness center, common terrace, and two guest suites. Similarly to Mosler Lofts, Gallery will have a rooftop garden terrace that provides a 360 degree view of downtown, Lake Union, Queen Anne, and Elliott Bay.
The Sky lofts units will come with 18 foot ceilings on the east and west side of the building. Home buyers will have the opportunity to combine homes during early presales.
Units feature hardwood floors, custom cabinetry, solid surface glass, countertops, stainless steel appliances and premium plumbing and light fixtures. Upgrade options include kitchen design with floating islands, and built in or freestanding entertainment centers.
How useful was this post?
Technorati Tags: Gallery condo, live at gallery, belltown condos, Mosler lofts, williams marketing, urban condominiums