We took a hard hat tour of the model units that are completed in Luma Condominiums on First Hill, located at 1321 Seneca St . The model units are #209, a 861 square foot one bedroom one bath home facing north and #301, a 1,189 square foot two bedroom two bath home, that is a corner NE facing unit.
We were impressed with the finishes and layouts of the model units. I feel they most resembled and had the feel of the interiors at Enso condos in South Lake Union, and both being designed by Weber Thompson is likely the reason for this. The interior design at Luma just received the 2015 International Interior Design Association's INawards People's Choice award so we are not the only people who found the interiors pleasing.
The layout of #209 was great for a one bedroom with large spaces, a walk-in closet and plenty of room for your dining table. It was a great size for a one bedroom, although it does lack it's own deck space. As for #301, we really liked that the dining space was its own space and not just a long narrow living room/dining room combination we see so often in shotgun style condo units. The bedrooms and their baths were also on different sides of the unit, which was also a nice layout choice. Although Luma doesn't have curtain wall construction, meaning no floor to ceiling windows, there was plenty of light streaming into this corner home and not having windows to the floor gives you more flexibility with furniture placement. The 9 foot ceilings also made the condo feel larger and airier. (more photos below)
Luma is currently 45% sold and still on target to start closings in July. At the same time that the closings begin in the summer, the sales center will move into the main level loft home.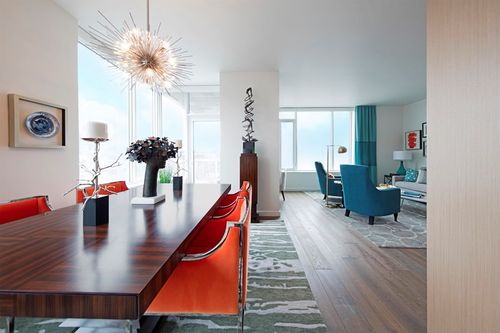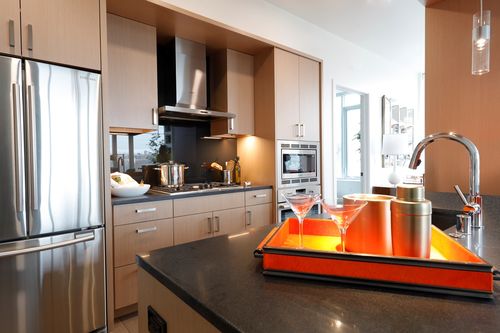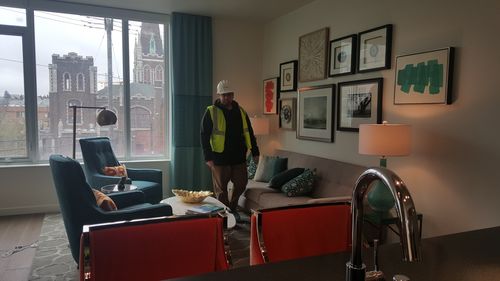 Considering buying at Luma? Let us know, we are here to help you through the process and go over the options and floor plan pros and cons with you.
Professional photos courtesy of Michael Walmsley
By Marco Kronen with Seattle Condo Review: A guide to Seattle downtown condos.