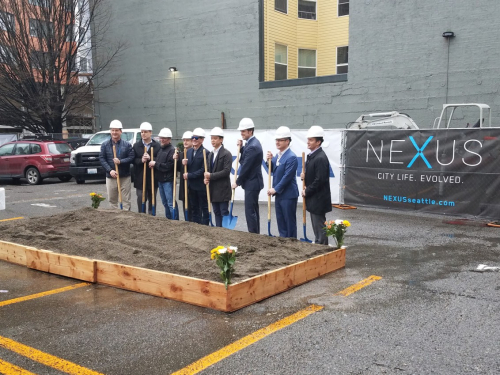 NEXUS condominiums had their ground breaking ceremony this morning. Present were representatives from Burrard Group who is the Developer on the project, Weber Thompson who is the architect, interior designer and landscape architect for the project, Realogic's Sotheby's International Realty who is the marketing and sales team, a representative from the DSA and Skanska who is the contractor.
They announced that they will open for public sales at 11am sharp on Saturday March 18th at their new sales center. They also indicated that they have listed several of the condominium units for sale on the Northwest Multiple Listing Service, though at the time of this post only one was live on the market.
The ideas and inspirations that were mentioned at the ground breaking were the desire to create a new neighborhood within Downtown Seattle and to build the condos where walkability, transportation and proximity to job centers are key. Also noted was the want to incorporate innovative technology into the building, provide flexible floorplans, implement sustainable living ideas, and put forward a design that was not run of the mill.  They are now calling the Denny Triangle, the neighborhood where NEXUS will be located, the East Village.
We will attend the VIP Reception this evening and report back on any additional information we learn about NEXUS and the sales process.
By Marco Kronen with Seattle Condo Review: A guide to Seattle downtown condos.