We attended the NEXUS VIP Reception last night and were able to tour the full sized two bedroom model home within the sales center and learn more about the innovative technology that will be available in NEXUS.
Public sales begin this Saturday March 18th at 11am at the Sales Center.
The technology component was the most interesting and unique feature we learned about. The system is called Xen and it uses one interface to consolidate building information including your reservation  requests, parking, messages, packages, etc.,  automations you can customize for your lighting, music, window coverings, etc., energy usage with an eco score, a marketplace function, and other nifty features like being able to lock or unlock your door remotely. There is an interface with Amazon's Alexa as well. We were impressed with everything that you can do with this system and it is truly unique to this building at this point. We plan to do a more detailed article about the system for you so you can really hear about what is possible so stay tuned for that.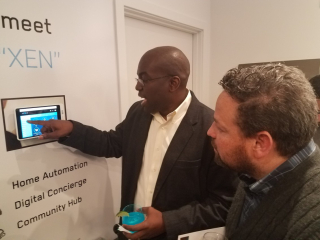 The model home was a nice representation of what a two bedroom condo will feel like at NEXUS. To us, the finishes and layout felt most similar to Insignia. A couple of things to note, the bedrooms were on the smaller size, at least in this floorplan. Also, the cooktops will not be gas and we know this can be a deal killer for some people so we thought it was worth mentioning.