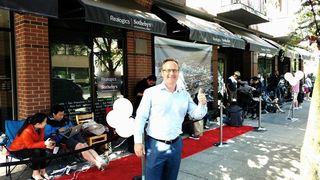 Wow what a difference a year can make in our dynamic condo market.
NEXUS Condominiums is reporting a very strong turn out to their grand open reservation event this past weekend.  We attended a preview event last week, and so far the offering of condos at NEXUS sounds very compelling.  With two other condo projects nearing their completion and closings this summer (Insignia Condominiums and Luma Condominiums) it's not surprising there is demand for another high-end luxury condo community in the downtown core.
According to the article released today by Realogics Sotheby's International Realty (RSIR), the marketing company for NEXUS Condominiums, "The Burrard Group has accepted 244 first-position, unit-specific reservations for priority presales at NEXUS, a new 374-unit high-rise condominium tower located at 1200 Howell Street in downtown Seattle. Project representatives at RSIR report that more than 500 prospective home buyers were processed through the NEXUS Preview Center at 2715 1st Avenue on June 4 and 5th. Several groups camped out overnight to ensure a first place in line while a crowd of approximately 130 were cued up by 11am on June 4th when the reservation event commenced. Prospective home buyers were offered an individual home for priority presale with a price range for a $5,000 fully-refundable deposit to be held in escrow. Reservations will convert to a Purchase and Sale Agreement during the Fall of 2016, commensurate with the opening of a formal sales center and the ground-breaking of the development. NEXUS is scheduled for occupancy by mid-2019."
"Our opening weekend results suggest a growing preference for condominium ownership after an unprecedented apartment cycle that added nearly 10,000 new rental units to our skyline," says Dean Jones, President and CEO of RSIR, the firm representing NEXUS. "Those apartment towers have been incubating future home buyers who are increasingly recognizing the investment potential and benefits offered by home ownership. NEXUS provides an opportunity to own a slice of this fast-growing metropolis."
What does all this mean? It means that people have expressed interest in 65% of the 374 units.  Reservations are a very early indication of interest, and with a small $5,000 reservation deposit (that is fully refundable) I do anticipate that once final pricing, final numbers on the HOA dues, terms on investor purchasers, etc. are all working out, we'll see some buyer fall out and many of those reserved units will become options for other buyers.  This often happens with the early reservation process in pre-sale  condo opportunities. It will be when the proverbial rubber meets the road once that reservation fee becomes a more sizeable non-refundable earnest money deposit, and then we'll see how sales proceed from there.  Recent lack luster commitments in the pre-sales in the Gridiron condos in Pioneer Square, make me think the final pricing and HOA dues will really have an affect on how many of these buyers proceed.
Have questions about NEXUS? Let us know and we'd be happy to help walk you through the buying process and pros and cons of certain floor plans and layouts.
By Marco Kronen with Seattle Condo Review: A guide to Seattle downtown condos.