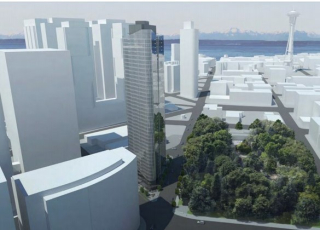 According to the Puget Sound Business Journal, the Developer of the lot in South Lake Union where Shilla Restaurant sits at 2300 8th Ave, will be developed as condominiums, at least that is the plan for now. The small triangular lot across from Denny Park is being developed by Bellevue-based North American Seattle Development LLC, which is affiliated with a company out of China.
The building will be 39 stories with 286 residential units. The plan today is to build condos but the developer is keeping their options open to see how the market is looking closer to the time when they will begin construction on the project, which is currently unknown and dependent on when the city approves their master use permit. The estimation is that the earliest they could start construction would be summer of 2018.
Rendering: Caron architecture firm
By Marco Kronen with Seattle Condo Review: A guide to Seattle downtown condos.