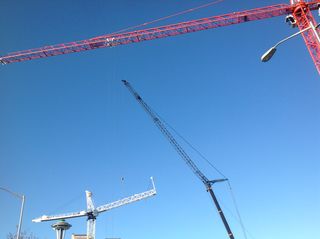 Our readers often ask us how many of the cranes out there are building condominiums in Downtown, First Hill, South Lake Union, Pioneer Square and Belltown. Most people assume there are many condominium buildings taking shape under those construction cranes but believe it or not, only three cranes will belong to condo buildings. One is for Gridiron, the building located next to the stadiums, which is in full swing. NEXUS is another one and the last one is 1631 2nd Avenue (though technically neither of their cranes have even been erected yet). There is also the outlier of Hendon, being constructed in Phinney Ridge.
The other cranes are building hotels, apartments, office space, biotech space or some combination of those uses.
If you are ever curious about what the cranes are constructing, check out the Puget Sound Business Journal's handy tool, the Crane Watch here.
Hopefully this helps answer the burning question of "what are all those cranes building?".
By Marco Kronen with Seattle Condo Review: A guide to Seattle downtown condos.