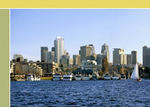 I received lots of feedback from my own clients regarding the South Lake Union projects. Below are some of the common questions that came up. Since I thought the best person to answer them would be someone from the Sales Center, I asked Jon Hunter, Assistant Branch Manager from John L. Scott (Seattle Center) working with Vulcan to give us his two cents. Here are the excerpts. For the full interview, click here.
1.) Many home buyers feel that they need to jump through hoops before they can have the chance to purchase one of Vulcan's projects. How do you respond to that?
"I would say that there are no more 'hoops' to jump through than if you were to purchase any other new construction project downtown. Everyone wants information, and the best vehicle in which to give people the information in a manner that is both interesting and informative was to host these information sessions……What we wanted to create was a fair and just system, and part of that system is that everyone plays on the same playing field. With that in mind, everyone must attend the information session in order to ascertain a lottery card….."
2.) When do you think that home buyers will be able to get more specific pricing information?
"We should have pricing narrowed down in mid to late August… as we get closer to actual home selection day, we will continue to refine our pricing. We know this is a crucial part of the selection process, and therefore we are spending a majority of our time solidifying these numbers. However, we do have some factors that are not in our control, and we ask for just a bit of patience."
3.) What do you say to homebuyers who are concerned about the traffic flow in South Lake Union?
"The traffic flow in South Lake Union will be great once we get a few things resolved and the Streetcar will certainly help. Everyone moving into the South Lake Union will love the street car… only because it's absolutely perfect to get downtown, to the airport (with the light rail in 2009) and really connects the neighborhood to downtown."
4.) When is the Whole Foods market going to be opened?
"Whole Foods and the Pan Pacific Hotel are planned to open in the first weeks of October. The construction is progressing nicely on both amenities."
5.) What advice would you give to someone who is interested in Vulcan's SLU project and trying to determine which one will be the best fit for them?
"Excellent question… This question is all about lifestyle. If I were a creative minded individual looking to find a place to express myself, I would probably be lured by Veer… 9', 13' and 16' ceilings, open spaces, a rooftop BOCCE BALL….., not to mention the finishes being hip and urban… just a block off the streetcar line and only three blocks to Lake Union, concrete floors, exposed wood ceilings, expansive glass, large decks, some units with pocket Zen gardens."
"If I were looking for space, wide open spaces (average space is 1100 sq/ft), minimal walls, open loft living – like in NYC, with air conditioning, heat pumps with AC, two rooftop decks, and a guest suite… I would be interested in Rollin ."
"If I were looking for a sleek, modern, architecturally stunning building where sophistication wreaks havoc… well, I would be leaning towards Enso. Enso, which is a perfect circle in calligraphy and means balance and enlightenment, is the perfect place for someone who loves everything that an urban home can offer."
6.) Is there anything else that you would want to share with the SCR readers?
I would say to your readers that we are extremely excited at offering these projects to the public. We are so excited we can't help but want to stand on top of the Space Needle and tell everyone about them! The next best thing would be to hire the contractor who built the space needle and have them work on one of our projects… so we did that as well!
"No detail is overlooked in these condos… Please, if you are at all interested in purchasing a condominium over the next few years, please stop by our presentation showroom located at 101 Westlake Avenue North, kitty corner to the new Whole Foods and let us share with you why we are so proud to be a part of these projects!"
How useful was this post?
Technorati Tags: Enso, Veer Lofts, Rollin, The Martin, South Lake Union condos, SLU condos, Vulcan's projects, Vulcan's condos, Discovery center, 2200 Westlake, Whole Foods