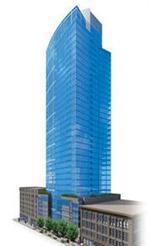 There is definitely no shortage of inventory for luxury condos, ultra premier condo/hotels, and high-end residential condos in the downtown/Midtown area. Looking at all the projects going on, we are definitely going to see a significant change to the Seattle downtown skyline in a few years. Olive 8, 5th and Madison, Escala, the list goes on…
One interesting luxury condo is 1521 on 2nd Ave between Pike and Pine St. The condo has been receiving so much interest that more than 50% of their units were sold and the developer will be raising their price tomorrow for some of the units.
1521 is going to be the tallest residential condo in Seattle, rising 400 feet above the market district. There will be 143 residential units which start from the 7th level to 38th level. Each level will only have between 3-5 homes on each level. Construction starts end of July with estimated completion in 2009. The tower's sculpture-like glass architecture is designed by Weber + Thompson, who also designed the Cristalla project. The condo will be more slender than most downtown towers and grows increasingly slim as it gets higher. This design provides great views and reduces the impact on other building's views.
Amenities
• A convenient porte-cochere for ease of arrival and departure
• Grand entry lobby with concierge service. A door man after hours
• High speed elevator
• Business conference space
• Digital video recording surveillance of building entry points
• Landscaped rooftop terrace with city and water view. Chef quality grill and fire place
• Private rooftop terrace room for entertaining
• Fitness center/spa, and yoga and Pilates studio
• Playroom for children
• Bike storage and maintenance area
Finishes/features
The homes are elegantly designed, using high quality finishes. A residential building with a five start hotel feel.
• Fire place with satin finish slab limestone
• French wood entry door
• Motorized, open weave window shade system
• Pacific Northwest-crafted cabinetry in maple, white oak, or merbau
• Flexible indoor/outdoor glass room with operable bi-fold windows
• Large, open, walk in spa shower with built in bench
• Smart box system wired for phone, cable and satellite television
To request for a price list, please email me at wendyl<AT>johnlscott.com.
So what is so unique about this condo? First of all, it's going to be developed by one of the nation's largest and most respected real estate development companies, Opus NWR and they are working together with well recognized local developer/real estate advisor William Justen, who is the visionary behind this condo and a long time resident of downtown condo living. He believes there is a niche market that needs to be met.
There are a couple of other things unique about this condo:
• Their smallest floor plan starts at two bedroom. Investor cap is at 5%, making it a very exclusive residential tower than most condo.
Floor 7-29: Five homes per floor- average 1,787 square feet
Floor 30-35: Four homes per floor- average 2,233 square feet
Floor 36-38: Three homes per floor-average 2,600 square feet
• Distinctive architecturally design with clean lines. Instead of balcony, W + T incorporated into each home a creative solarium known as the Glass Room, where a large patio can be opened to the exterior serving it as a terrace or enclosed sun room. It could make for flexible living space given Seattle's unpredictable weather. I could easily see someone enjoying a fine cigar during the winter beside the fire place in the Glass room or a resident sun bathing during the hot summer.
So far, the A floor plan is their most popular unit. They are all sold out. E and D floor plans are South and Southwest facing. However, they could potentially be blocked by future development. To get a more protected view, you need to be at least 16th level and higher or go with the F or K floor plan.
What's going on in the neighborhood?
1.) Second and Pine– A upcoming development of a mixed use building with hotel/condo and retail spaces
2.) 1521 condo
3.) Second and Pike- Proposed plan for a high rise condo
4.) Recently completed SAM museum and Washington Mutual Tower
5.) Four Seasons Hotel on 1st and Union (under construction)
So is there anything a home buyer needs to be concerned? Most buyers will probably raise questions about the clientele along the Pike and Pine corridor between First and Third Ave. The area has been known to be a shady corridor at the same time a busy street used by residents and tourists all year round. With a few high-end developments coming up, it looks promising that the area will be more cleaned up. If the area develops similar to what happened in Belltown in the last few years, this may present a compelling investment opportunity, Based on the sales so far, it would appear many people are betting on it.
Technorati Tags: 1521, 1521 condo, fifteentwentyone, Fifteen Twenty One, Fifteentwentyone condo, Four seasons, Four seasons condo, Seattle luxury condos, Seattle high end condos, Willam Justen, Opus NWR, Weber and Thompson, Weber + Thompson