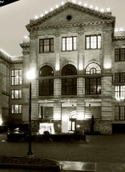 Currently, Queen Anne High School's (QAHS) interior is under renovation. Priority registrants will be contacted in August with more information about the opportunity to purchase a home in QAHS before the public grand opening in early September. The priority appointments will most likely take place in late August through September depending on construction progress. Here are some newly released details about the interior.
• There will be two color scheme options offer. Half of the homes are being finished with rich cherry cabinets and half with crisp white cabinets with beadboard details.
• The kitchens in most homes have been configured to include a work island, and they feature glass upper cabinet inserts, slab granite countertops with rolled edges, stainless steel appliances, farmhouse-style sink and full height tile backsplash.
• Where possible, the original hardwood floors have been restored and refinished. Most homes have new hardwood floors with an inset of carpet in the living room.
Stay tuned for more information.
Read more on Queen Anne High School.
Technorati Tags: Queen Anne High School, Queen Anne condos, Historical landmark condo, Condos in Queen Anne, Queen Anne School