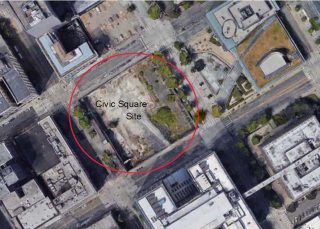 Mayor Ed Murray has announced that the city has reached a tentative deal with Bosa Development, the developer of Insignia Condominiums in Belltown, for the long-delayed Civic Square project in Downtown Seattle. According to PSBJ, if the Seattle city council approves the 21.7 million dollar deal, Bosa will begin building a condominium tower on the full block site in 2018. The site is located between 3rd and 4th and Cherry and James.
According to the deal, Bosa will still provide an area for a public plaza but that plaza will be owned and maintained by Bosa. The city hopes to have a decision by early next year on whether the deal will be approved and will move forward.
We will continue to monitor this and hopefully we will see a condo tower coming out of the ground in 2018 in Downtown Seattle.
By Marco Kronen with Seattle Condo Review: A guide to Seattle downtown condos.