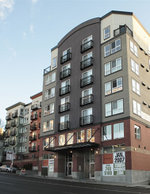 Tobira's preview event happened last weekend and they have since sold 8 units. This weekend will be their grand opening. If you are looking for something more affordable and close to downtown, it's worth taking a look.
Previously known as the Empress apartment, Tobira was built in 2001 and has 7 stories with a total of 88 units. Floor plans include studios, one bedroom's, one bedroom plus den's and 2 bedroom's. All of their studios are east facing looking out to a huge retaining wall or parking lot. If you are facing west, your unit has to be on the 5th level and above to get some city views. There is a low rise office building right across from Tobira blocking the view.
Standard package includes original white appliances, hardwood floors in the kitchen and entry and granite counter top in the kitchen. If you prefer stainless steel, you will need to pay an additional $3,000 to upgrade them. The upgrade that I think is worth putting in is the Murphy bed for the studio. This will greatly enhance the living space in the unit.
The one bedroom plus den is a good floor plan. It is nicely layed out, reasonably priced and set back away from the road. The den area is as good as a 2nd bedroom. The only draw back is the master bedroom is smaller than the den. 3rd level east facing units have their own patio and a common area for residences. Price list.
Home buyers interested in this condo can put down a 1% good faith deposit (earnest money check) to purchase the unit. There is also a $4,000 buyer's bonus if you are using their preferred lender. Overall, Tobira is an affordable condo with a convenient location.
Pros
– Proximity to downtown, International district and Pioneer Square
– Newer building
– Reasonable homeowner dues
Cons
– Studio doesn't come with parking space (available for purchase for $15,000/space)
– Limited amenities
Exterior: Good
Interior: Average
Location: Good
Value: Average
View: Below average
Amenities: Average
Overall: Average
Technorati Tags: Empress buidling, Empress apartment, Tobira Condominiums, Tobira condos, Downtown Seattle condos, Seattle condos, Seattle downtown condos, downtown Seattle conversion, Wysong Group