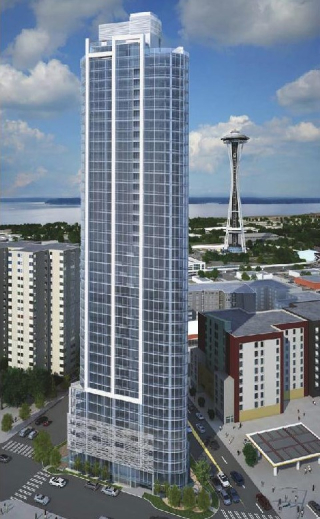 Laconia Development, who is developing the triangle shaped lot located at 600 Wall St, has announced that they will be building condominiums and not apartments.
The 41 story building will be called Spire and they will break ground today. There will be 352 residences from studios to 3 bedroom plus den homes. They are indicating that pricing will range from $450,000 to over $5 million. This Developer will also allow units to be combined. Amenities will include 2 rooftop decks. They anticipate the construction to take 28 months due to the challenges associated with the small sized lot.
This switch from apartments to condos reflects the softening rental market due to the influx of new buildings being constructed and the condo price increases that we are seeing in our current real estate market.
Being located on the intersection of Denny Way, Wall St (the current off-ramp from Aurora) and 6th Avenue is a definitely a busy intersection to be located on. We will see if that location in Belltown can fetch prices near $5M.
By Marco Kronen with Seattle Condo Review: A guide to Seattle downtown condos.