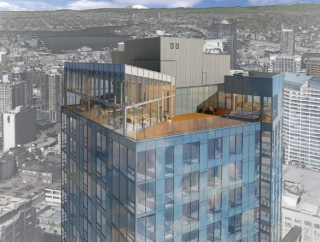 Daniels Real Estate, the Developer behind the Gridiron project in Pioneer Square, has it's hands in two new condominium projects coming to Seattle.
The first is a project located on First Hill, at 8th Avenue and Columbia Street. This project, known as 800 Columbia, will be a luxury 30 story tower with 287 residents. Rumors are that it will be condominiums. The building will have a rooftop deck, dog run, gym, bike storage, game room, party room, dining room and theater room.
The other is the project located near Pike Place Market at 1631 2nd Ave, now known as The Emerald. On this project, they are not the Developer but instead are the project investors' development consultant along with Create World. This new construction condo building has already broken ground and will be 40 stories and have 265 units. Emerald will have one, two and three bedroom condos ranging in size from 540 to 1,700 square feet. It will have retail on level one and amenities including a gym, yoga studio, pet area, guest suite and rooftop level party room and outdoor space.
We look forward to hearing pricing and anticipated sales and completion dates.
By Marco Kronen with Seattle Condo Review: A guide to Seattle downtown condos.
Rendering of The Emerald from Hewitt Architecture