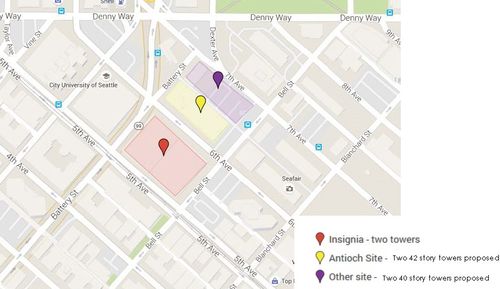 In a previous post I discussed the potential view obstructions to the west of the new south tower at Insignia from a new proposed 24 story condo building in Belltown at 4th and Bell.  Now, it's the east side of Insignia Condominiums that we need to be aware of.  Many different rumors have been circulating as to what will be going on the current site of Antioch University in the Denny Triangle/Belltown area, as well as the large block just across the alley to the east of Antioch.
As developers try to be the first to get their project approved and permitted to allow them to build to the max height and with the most square footage, two different land owners and developers are looking to build on the two lots just across 6th avenue form the new Insignia Condominiums.
The latest information in this PSBJ article is indicating two 45 story towers on a 12 story podium with some ground floor retail are being proposed for the Antioch site.  The renderings show two towers at basically the same height as the Insignia towers, so those owners and potential buyers in Insignia should be aware of the upcoming development to the east which will likely obstruct views to the east oriented views including outlooks of Lake Union, Capitol Hill, etc. Even upper floor "penthouse level" units will likely be impacted if the buildings are built. This development risk has been known for quite a while, but it's starting to look like designs are now being proposed.
As buyers, and even sellers in this very dynamic Seattle market, it's important for you to know what's being proposed and developed in your neighborhood.  Timing and location are big factors in the real estate market, even more so here in Seattle as things are changing and growing so incredibly fast.
By Marco Kronen with Seattle Condo Review: A guide to Seattle downtown condos.