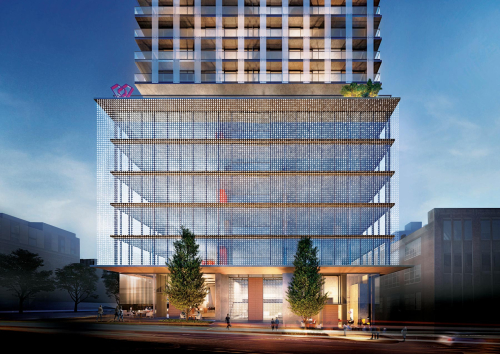 It's not often I truly get excited about a condominium project that is coming down the pipeline, but after a recent trip to Vancouver to personally meet the developer, Ian Gilespi of Wesbank, and hear his story, learn his philosophies on development, and discover the visions he has for our condominium market here in Seattle and how Westbank would like to fit into that, this feels different and very unique to me. I also had the opportunity on to tour current and past projects of Westbank's in Vancouver, such as Vancouver House, Shanghai-La Hotel and Residence, and community changing Woodword's.  I am looking very much forward to First Light based on what I saw and experienced.
Why? Well, I am really looking forward to something innovative, fresh, with high design that will truly raise the bar here in Seattle. Living in our condo in South Lake Union now and in our Belltown condo in the past, I feel our developers have been building a lot of the same type of thing over the years, and I'm excited for a condo developer that hopes to have an impact not only on our local condo market, but also positively impact the way we live in our condos, have an impact on the community, and inspire others. I think First Light will be just that condominium community.
As the developer rolls out new information and announces the sales process to the public in the coming weeks, I want to start to get the word out to our clients, both past and present, so that you can decide if this might be a condominium community you could possibly see yourself being a part of.  So read on, and let's set up time to connect so we can get you in a position to set up a private session.
What Makes Westbank Different?
In this first post about First Light, I'm going to skip talking specifically about the building itself, the unit sizes, the potential price points, layouts, etc. and will instead highlight some of the things about Westbank and this condominium project that I feel are unique, iconic and worth considering for my clients, and who knows, maybe even possibly for Loren and I.  I will focus on each of these in more detail in upcoming blog posts.
Bettering the Community They Develop Within
Each and every project incorporates a way to truly improve or help make the local community better.  And I'm not just talking about giving money to affordable housing, which all developers are basically required to do, but going further and actually investing money and resources in the very neighborhood they are developing within. Westbank recently announced they will be working with Food Life Line as their chosen charity and will contribute money from each and every sale at First Light. In addition, at the event I attended this past week, they announced a large $10,000 donation to Food Life Line, to get things started. Chefs Tom Douglas and Thierry Rautureau, who both sit or have sat on the board at Food Life Line and attended the event, said this would contribute to 40,000 meals here in Seattle.
Art/Culture, Music, and High Design are Requirements of Westbank's Projects
For Westbank, the condo project has to be more than just a building with condo units and some building amenities, and ground floor retail. I appreciate how they intentionally work to ensure that art, culture and high design that inspires are required elements of their projects. I encourage you to do your own research and look at the works of the Architect, James Cheng, and local glass artist John Hogan, who will be creating several elements that will be a part of First Light.
Development that is Diverse and Commitment to Specific Markets Long Term
This is one thing I'm really focused on when I make recommendations to my buyers and when I consider buying for myself.  Is the developer committed to the local market, or they building a "one and done" building. Westbank maintains long term ownership and involvement of their buildings. While most developers build and sell off the retails spaces, Ian likes to maintain ownership and have Westbank manage the retail and office spaces in their buildings. First Light is not the only building they are constructing, in fact Westbank has already broken ground on another multi-family development in Seattle, 1200 Stewart, and the Frye Building on First Hill is soon to come as well. Both are likely to be rental apartments and each incredibly unique and inspiring on their own. And there is more to come, as Ian made mention that he is looking to be developing in Seattle for at least the next decade and beyond. Westbank has chosen Vancouver, Toronto, Tokyo, and Seattle for markets that they are committed to and will focus on.
This is just the tip of the iceberg on information I have about First Light and more information will be announced in the coming weeks by Westbank and their sales team, and I look forward to sharing more about the specifics of the building, and having just received the floor plans, I'm excited to share my favorites with you!
By Marco Kronen with Seattle Condo Review: A guide to Seattle downtown condos.