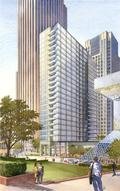 Trading in Fleece for Cashmere.
With more higher end condos and hotel/condo combos receiving healthy buyer responses, it's apparent that Seattle is ready for even more luxury residences. In actuality, Seattle is just catching up with other major city like New York, Chicago and Las Vegas. You almost wonder what well-heeled home buyers settled for before they start seeing these luxury condos coming up on the market.
One of the most recent releases is the 5th and Madison condo. Right in the heart of Seattle's financial district and across the Seattle Central Library, this 24 story luxury condo is estimated for completion in summer 2007. The condo is designed by local architects Ruffcorn Mott Hinthorne Stine.
5th and Madison will be seeking LEED certification. LEED- Leadership in Energy and Environmental Design-is the national standard for creating high-performance, sustainable buildings. In 5th and Madison case, they will have eco-friendly details, the use of recycled construction materials and a system for controlling rainwater run off.
Amenities
• Outdoor terrace with gas grill and seating
• Residents' lounge with library, kitchen and 42" plasma TV
• Fitness center with 42" Plasma TV
• Guest room
• Pet exercise area
• 24 hour concierge
• Wi-Fi internet access throughout amenities level and the plaza
Home features/finishes
• Floor to ceiling windows
• 10'5" ceiling in the main living areas
• Sliding doors opening to a spacious deck (for 01 & 04 plans)
• Juliet balconies with tilt and turn windows (except for 04 plans)
• Hardwood floors
• Brushed aluminum hardware throughout
• Pure wool carpet in bedrooms
• Energy efficient air conditioning system, gas fired heating, and gas fired hot water system.
• Stone slab kitchen counters
• Sleek, flat panel cabinets with European stainless steel pulls
• Stainless steel undermount sink with polished chrome pull-out faucet
• Stainless steel Bosch gas cooktop, convection electric oven, and dishwasher
• Stainless steel Amana refrigerator
• Ceramic tile shower surrounds, with full sized shower or deck-mounted bathtub
• Stone slab bath counters with oval undermount sinks
• Polished chrome Kohler designer fixtures
Price range for units available- High $400,000 to $2.5 million
Unlike Escala and Olive 8, 5th and Madison is more slender in structure. Each level will only have 6 units. Since 5th and Madison is surrounded by tall office buildings, residences who like water views can only get a narrow view of the Puget Sound from the west facing units.
#01 & 04 floor plan (NW) has more windows and comes with a balcony. #02 and #03 on the 23rd level will gives you an unobstructed city view. What sets this luxury condo apart from other condos is the outdoor plaza. Trees, plantings and flowing water channels offer appealing in-city living without missing the natural elements.
Pros
– Architectural design is stunning
– Appealing outdoor Plaza
– Fairly priced
– Closer to Pioneer Square
Cons
– The views are sparse (unless you are on higher floors)
Location 3.5/5.0
Exterior 4.5/5.0
Interior 4.0/5.0
Price 3.5/5.0
View 3.5/5.0
Overall rating 3.75/5.0
Technorati Tags: 5th and Madison condo, 5th and Madison, Downtown condos, Seattle luxury condo, high end condos