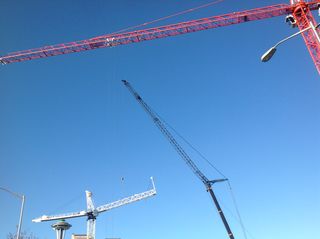 Last week, the Downtown Seattle Association (DSA) held its annual breakfast where they delivered the 2015 State of Downtown Report.  The recent article by the Puget Sound Business Journal did a great job of highlighting some of the key points of the DSA's Report, and I thought it would be interesting to share information from the article regarding the upcoming demand for downtown housing, which includes both condo units as well as rental units.  I often get questions from buyers and sellers with regards to whether or not Seattle is building too many downtown housing units and whether or not we will see a glut of units that might cause a softening in the condo sales market or a softening in the rental market in the near future.  
While the report didn't specifically say yes or no to the question of whether or not there is a bubble coming or a future glut of inventory, one key item in the PSBJ article and the report from the DSA that I feel might calm this concern a bit, is the overall increase in downtown's residential population and job growth. 
Key Points:  
Since 2010, downtown's permanent population has increased 8%, which equates to 65,000 people who now live in the downtown area.  That number is expected to increase 10% more in five years.
About 3,000 units are under construction now.
2,650 more units are planned for 2016.
According to the article, "The overall job growth in downtown is twice that of the region as a whole. 243,995 Seattleites work downtown". 
Although, according to the DSA's report, a combined 5,650 units are coming between now and end of 2016, I believe that with millions of square feet of office space coming, this will result in a continued increase in the downtown area workforce.  This growing workforce will likely increase the desire to live in or near the downtown area for many reasons, but most likely due to our traffic issues that seem to be continuing to get worse.  This will continue to increase the demand for housing downtown, and at least to me, seems to reason this demand will easily gobble up all the upcoming condo and apartment units that are under construction or planned.
By Marco Kronen with Seattle Condo Review: A guide to Seattle downtown condos.