We have a widget in our Multiple Listing Service called the Market Watch that we can customize in order to see a snapshot of the market segment we choose. Our Market Watch shows us the activity on all condominiums in Seattle within a 24 hour period. Sometimes it is hard to articulate how low inventory really is out there but we thought just providing you with a screenshot of our Market Watch would get the idea across. And the trend you see below is what we have been seeing for the past year. The number of condominiums going under contract, or going pending, is almost 3 times as high as the number of new listing coming on the market. So, if you are considering selling, consider it more seriously.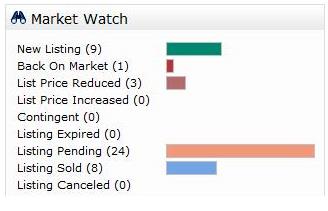 For selling, spring and summer are ideal times for this.  Buyers are out there and they need more options, and as a seller there are great options to consider for short term housing while you look for your new place.  We see some sellers hesitating to sell out of fear that they can't find a new place to buy, but be creative.  Perhaps consider things such as : 1) a rent back from the buyer of your home 2) make a short "staycation" out if it and rent somewhere you have been wanting to try living in as there are short term-lease options, and then 3)  there is always your family and friends who often are more accommodating for things like this than you might think.  Just some ideas for those who are considering selling but need some help on "bridging the gap" of where to live,  while looking for a new place.
By Marco Kronen with Seattle Condo Review: A guide to Seattle downtown condos.