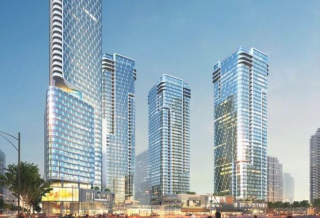 According to a recent PSBJ article, "Stanford Hotels has acquired a controlling interest in the four-skyscraper Elev8 project, paying Plus Investment Inc. $128 million for the 4.6-acre property". The site is located at NE 8th St between 108th and 110th.
Plus Investment's original plan was to build two 40-story towers in the first phase, one would be 351 luxury condominiums for sale and one would be 448 apartments for rent with retail at the base of both. Then in a second phase, a 3rd residential tower and an office building would round out Bellevue's largest high-rise development.
Since the original plan, the city has rezoned this area and now towers can rise up to 600 feet tall. Stanford has confirmed that the project will now have office space, residential and hospitality (hotel) uses and that they will consider the new zoning when redesigning the project.
As of now, pre-sales are anticipated to start in fall of 2019.
By Marco Kronen with Seattle Condo Review: A guide to Seattle downtown condos.