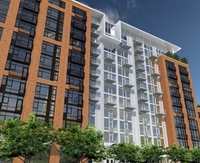 I attended Gallery's broker event yesterday. The sales center (located here) showcases a diorama of the Gallery building, a studio model unit and a video presentation to help you visualize the height of their signature Skylofts. Gallery is currently under construction with completion set for mid 2008 and will be located on 2911 2nd Ave.
Gallery was designed by Mithun Architect, who also did the design for Domaine and Mosler Lofts. Gallery's exterior design will be using a mix of brick and metal. The brick masonry columns frame the building with the center highlighted by steel and glass with floor to ceiling windows. A generous amount of green space occupies the broad sidewalks (on 2nd Ave) which offset the building from the street.
Gallery amenities include a 2 story lobby with 24/7 concierge service, a club room on the 2nd level with kitchen and entertaining area, business center, fitness facility, yoga studio, roof top terrace, and even a private dog park and dog wash area. On the 7th floor, you will find a club like lounge that is connected to an outdoor terrace with gas barbeque.
Most units will have 9 foot ceilings. The 2 story town homes and Skylofts feature ceilings as high as 18′ 8" ceilings. Open one bedroom floor plans range from 400 to more than 800 square feet. One and two bedroom flats range from 700 to under 1,400 square feet with some of them including a den. Four street level town homes on 2nd Ave feature one bedroom and a den with gate and porch. One bedroom Skylofts can be found on the east and west side of the building starting from the 7th floor to the 11th floor which will have views of the Space Needle or Puget Sound.
Markie Nelson, a local design firm has created four different color palettes for home buyers to choose from. Whether you are a minimalist or expressionist, there is a color palette that will cater to your personality and the style you want in your unit. Interior standard features will include hardwood floors, custom cabinetry, a choice of either solid surface glass countertops or granite slab, and stainless steel appliances. Some of the options available for homebuyers are as follows:
• Custom made multi-purpose room dividers match cabinetry and provide wardrobe, entertainment and storage functions
• Air conditioning
• Higher quality appliances package
• Stainless steel mobile kitchen island cart
• Glass upper kitchen cabinets
• Electric windows shades
• Customized multi media systems, California closet system
The Gallery VIP event will take place on Thursday, Oct 12th from 6.30pm to 8.30pm. There will be a preview weekend on Oct 14th & 15th (Sat & Sun) from 11.00am to 6.00pm. Grand opening to the public will be on Oct 28th. Reservations of units will start on Oct 21st (from 10.00am). A $10,000 deposit is required. Purchase and sale appointment will be scheduled on or before Oct 28th. At that time, the remaining 5% earnest money will be required.
Overall, Gallery has an interesting old meets new exterior design that almost felt like three different buildings were seamlessly combined. Most of the time, you will see the glass type exterior like the Concord and Bellora or concrete and steel construction with a stucco looking exterior. The mix of brick and metal look is a welcome change and for many, has a bit more character. It will be interesting to see this condo rise up from the construction site.
Pros
-A good mix of floor plans (unique Skylofts)
-Comprehensive amenities
-More personalized options
Cons
-Lower floor west facing unit is facing a 6 story apartment building
Exterior: Very Good
Interior: Very good
Location: Good
Value: Average
View: Good
Amenities: Very good

Overall: Good
Technorati Tags: Seattle condos, Belltown condos, Gallery, live at gallery, liveatgallery, urban condominiums, urbancondminiums, Realogics