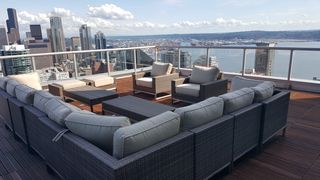 Insignia has just announced that they are officially over 85% sold in both towers combined, leaving them with less than 100 homes left.
If you are a buyer who is interested in living in the Downtown area of Seattle in a never lived in unit in a new construction high rise and want to move in this year, these are the remaining options for you along with any resale units that come on the market in Insignia. However, purchasing from the non-resale Developer owned units still gives you the opportunity to pick the floorplan you like best with the finish package you like most, which is unique to purchasing in new construction.
Construction on the north tower, which will start move-ins this summer, is moving along quickly. The interior finishes are being worked on above the 26th floor and the lobby and amenity levels are also nearing completion. The current south tower residents should be excited to have use of the indoor pool by this summer!
By Marco Kronen with Seattle Condo Review: A guide to Seattle downtown condos.